Autodesk Inventor Professional 2020 is a solution that, in addition to basic Inventor functions for mechanical design and documentation, has advanced capabilities to design plastic parts, cable and piping systems, and also validate product behavior during operation in digital format.
Purchase Autodesk Inventor Professional 2020 to quickly and easily develop, visualize, and model a more complete digital representation of your end product. Also you can consider some of the new features of this version of the software.
Inventor Pro 2020 Features
Inventory experience. Inventor introduces a new interface that provides new property panels to simplify workflows and reduce clicks, to save time.


Improve productivity. This makes it possible to engage in larger and more complex structures, increasing the productivity of assemblies, parts and individual elements. The new version allows you to do more work in less time. Modeling of details, assembly works, and creation of documentation.


Frame generator. Frame design has become more productive than ever, thanks to new features, tools and standard names.


Translation and compatibility. Optionally supported file types for AnyCAD are included.


Shape Generator. Allows you to create and evaluate high-performance design parameters in minutes.


Parametric modeling. Helps to create parameters as you draw and set the dynamic dimensions of three-dimensional objects. This allows you to focus on your design rather than the interface.


Sharing a shared view. Collaborate on models or projects on the Internet. Anyone can view and comment on shared projects in Autodesk Viewer.


Dynamic modeling. Allows you to make an effort to estimate the motion, speed, overload and acceleration on the created model.


Visualization and rendering. Allows you to show what the final product will look like, thanks to visualization and rendering tools.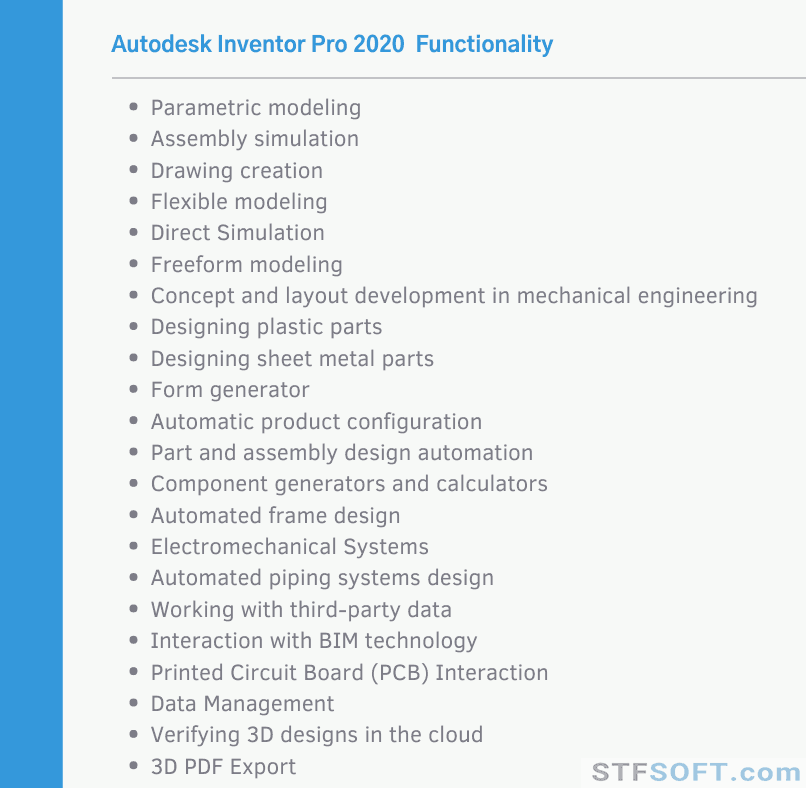 Autodesk Inventor Pro 2020 will help you develop, visualize, and model a more complete digital representation of your end product. It includes all the basic three-dimensional mechanical structures, CAD performance and Autodesk Inventor design functionality, as well as advanced capabilities for creating tools for plastic parts manufacturing, designing complex routing systems, and for optimizing and verifying project performance in digital form, reducing to minimum need to test the design with physical prototypes. And here are some more benefits of this program.
Benefits of Inventor Pro 2020:
the ability to design molds for molding plastics;


the ability to design cable and pipeline systems;


tools for dynamic analysis and stress calculation;


design of complex products;


powerful visualization tools;


the possibility of materials for the manufacture of your products based on environmental parameters, cost and operational parameters;


Automate 3D design, BOM creation, and repetitive design tasks


the ability to edit and check models prepared in other software products;


work with drawings via the Internet and from mobile devices;


support for the most modern formats, hardware and operating systems;


effective collaboration.
Start optimizing your work now by purchasing Autodesk Inventor Professional 2020 from
STFSoft.com
! Only here you can buy legal software at the lowest prices and with great discounts!